About Helene M
Welcome to Helene m., a woman's clothing boutique where style and fashion come together with a classically hip twist. Inspired by the style icon Audrey Hepburn, Helene m. offers a well-edited selection of clothing, shoes and accessories from some of the most coveted names in fashion, including Tory Burch, Diane von Furstenberg, Trina Turk, Kenneth Jay Lane and Rebecca Taylor.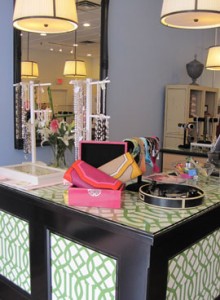 What began as a stylish little enclave in Portland, Maine eleven years ago, Helene m. now has another location in Portsmouth, New Hampshire . Helene M. has become known as the place to go for clothes that are classic yet modern, fashionably on trend without being trendy. Like the icon herself.
So whether it's for a fabulous pair of jeans and a basic tee or a stunning little black dress for a night out on the town, take a break from the banality of the flagships and stop by Helene m. With unrivaled customer service, a candid and savvy sales team and a selection of styles worthy of a wish list, it's the perfect place to channel your own inner Audrey….