Archive for April, 2011
In honor of our anniversary, we thought we would sit down with the woman who started it all! So, here it is… Helene Michalski on the hot seat…Read on, and get to know Helene a bit better!
Its been 11 years since you opened the doors of Helene M. ! Tell us what those first few months were like…
So scary and exciting at the same time.  I loved everything about my store but I was so nervous that no one would walk through the doors.  I was so scared that all I  wanted to do was hide in the back those first couple of months.  I still remember that first day when I did $323.43 not bad for the day after a major snowstorm when the city's parking bans were still in effect….
Classically hip is the tagline for Helene M. How did you come up with that? When you are buying, is it difficult to stay in that style parameter?
I wanted to come up with a short description of the style of clothes that you would find in my store.  Classic styles that stand the test of time so to speak, but also look hip and on trend.  It took me about two weeks to come up with the right tagline to depict what Helene m. is all about.  As far as the buying goes,it is relatively easy to stay within this style parameter.  The key is to stay focused and committed to my vision.
What is your favorite season to buy for, and why?
Definitely Spring and Summer.  I love the colors, prints and weight of the fabrics during these seasons.  The stores have an instant feeling of "happy" when we start putting this merchandise on the sales floor.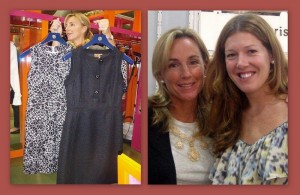 What is the most memorable thing that happened at Helene M.?
Well if the truth be told, I am star struck.  So I have to say that when Katie Couric stopped in our store and actually bought something that was pretty special.  The only problem was, I happened to be off that day (typical).  But I was in the store when Wayne Newton came in with his wife and bought quite a lot of stuff. Ok-maybe not the biggest stars but to me quite memorable.
What do you find most challenging and rewarding about owning Helene M.?
OK we'll start with the good first. There have been many rewarding aspects of owning Helene M. but I'd to say that watching my vision grow and maintaining it (through the many ups and downs) has been very satisfying on a personal level.  I have also met incredible people with inspiring stories that are not only my customers but have become my friends.  As far as the most challenging, let's just say it involves the back end of running a business.  But equally as difficult is knowing that I have let my customers down when we don't have the right product mix in the stores.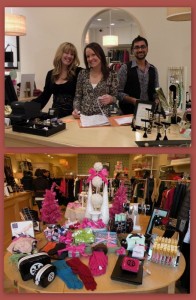 Tell us about which designers are your favorites?
I would have to say Milly and Tory Burch for their upper east side sensibility and Trina Turk and Michael Stars for their relaxed west coast feel.
How do you find that the style differs in each of your three locations?
Its actually quite interesting.  Each of our stores have a slightly different customer base that seems to mimic the type of lifestyle/demographic of the surrounding area.  For example, Our customers in the Portsmouth, NH area are more eclectic in style and not as preppy as our customers in Newburyport, Mass.  And our customers in Maine seem to be a combination of both.  So when we buy we keep our customer profile in mind.  My managers are really great at knowing who their customer is.
What should we know about you that we don't already know?
If I could I would live on an island along the coast of Maine-as long as I had a cable TV.  I love watching political news shows and anything that resembles masterpiece theater.  Who would have guessed…